Welcome to High Shelf Adventures! A place for HSG to host all of our Actual Plays of Tabletop RPGs
We're launching a new podcast! High Shelf Gaming is awesome, but it's for interviews and topics and game reviews. High Shelf Adventures is for Actual Plays exclusively
12/20/2019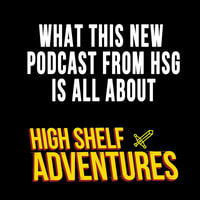 Welcome to High Shelf Adventures!
Here I explain that HSA is a new podcast following High Shelf Gaming's success as a tabletop gaming podcast with interviews, reviews, and topics, HSA will focus exclusively on Actual Play content!
Feel welcome to join our community, otherwise, sit back tune-in and enjoy us play a wide variety of games with an ever-growing community of players.
Other places you can connect with the HSG Squad:
Facebook @High Shelf Gaming Podcast Twitter @highshelfgaming Twitch /highshelfgaming Discord Chat https://discord.gg/tMPCXgN